STOP WASTING TIME!
It's that simple
Do you know how much time you waste making and managing calls?
Quality
2. Extract important data
Select contact informations you want to import from the list.
Smart
3. Start dialing
Download the Luuri.ai app from the App Store or Google Play and start dialing.
POWER DIALER ON MOBILE
Quality conversations with less effort
Get started in minutes
Mobile app (Android & iOS), where you can go through contact lists or call individually.
No hidden fees for calls
Don't pay expensive VOIP fees. Luuri.ai uses your GSM subscription to make calls.
Achieve transparency
Get rid of the guesswork. Track individual and team metrics in real time so you can focus on improvement.
Productivity
Don't bang your head against the receiver. Focus on the conversation. Luuri.ai takes care of the calling and call logging.
"Calling with Luuri.ai is at least as efficient as with the previous VOIP system."
"A handy and easy app for sales calls. I'm happy to continue using Luuri because you clearly work hard to develop the app and listen to the users."
Kokeile
Luuria

14 päivää ilmaiseksi.

(Et tarvitse luottokorttia)
REACH YOUR TEAM'S REAL POTENTIAL
Luuri.ai for sales teams
With Luuri.ai, your team will have more quality conversations with customers, get more meetings and save hours each week.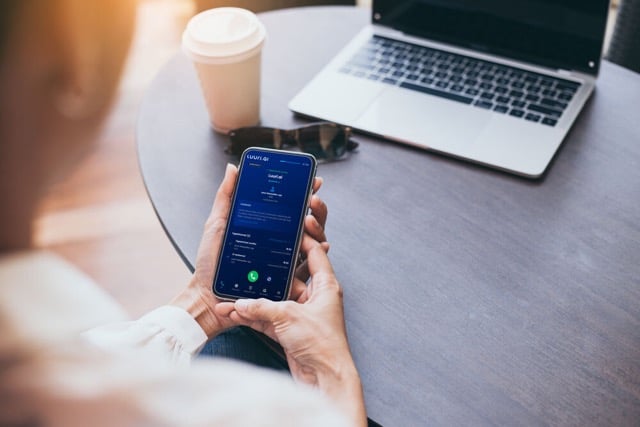 What is a mobile dialer system?
The best mobile dialer system is one that combines the phone in your pocket, the phone interface and the dialer functions into a single user friendly interface.

A mobile dialer system greatly improves the efficiency and productivity of sales teams without the need for heavy VoIP dialer systems.
What does it take to use the Luuri.ai?
All you need is a smartphone (iOS/Android) and a valid phone subscription to make calls using the Luuri.ai. You can download Luuri.ai from the App Store or Google Play. You can access the Luuri.ai web app via your browser, where you can download call lists (.xls/.csv) to your mobile device.
Do I have to pay extra for making calls?
No. The Luuri.ai mobile app uses your phone's own subscription to make calls, so we don't charge you separately for your calls. Luuri.ai does not currently allow VoIP calls.
What number does the recipient see when I call via Luuri.ai?
Your phone's subscription number. Luuri.ai uses the GSM line for calls. If you have a Dual SIM card, then Luuri.ai will use the number you have set as the preferred number for calling.
Start a free trial
(No credit card required)